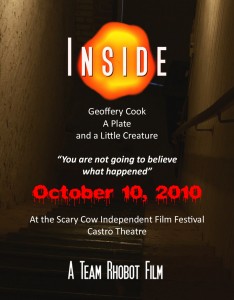 The most recent Team Rhobot project Inside will be screened at the upcoming Scary Cow Festival – see http://screening.scarycow.com for tickets!
The project was tackled as part of the 48 Hour Film Project event for San Francisco and as well as competing for general round 1 Scary Cow budget, the film also be competing for a special 48 Hour Film Project prize.
As part of the rules of the 40 Hour Film Project competition we were assigned a genre (Horror), as well as a character (a consultant named Geoffery or Gigi Cook) and a prop (a plate).
The screening will be at that Castro Theatre in San Francisco on October 10th at 3:00pm.
We will share the movie on this site also after the screening is complete.