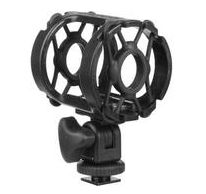 I have been looking somewhat into microphones for film making.
One interesting item I found is the Pearstone DUSM-1 Universal Shockmount for Camera Shoes and Boompoles.
On the microphone side, the Azden SGM-X – Supercardioid Shotgun Condenser Microphone with Mini Output looks interesting for a start. Cheap and will apparently connect directly.
It may need an adapter to connect into a stereo jack.